Phygital is a nerdy good term.
The combination of physical and digital is something humanity has been experimenting with for centuries. The history of electronic engineering is straight inventive and the conversational AI powering our new ChatUX in BEN BOT knew about the concept before I even asked.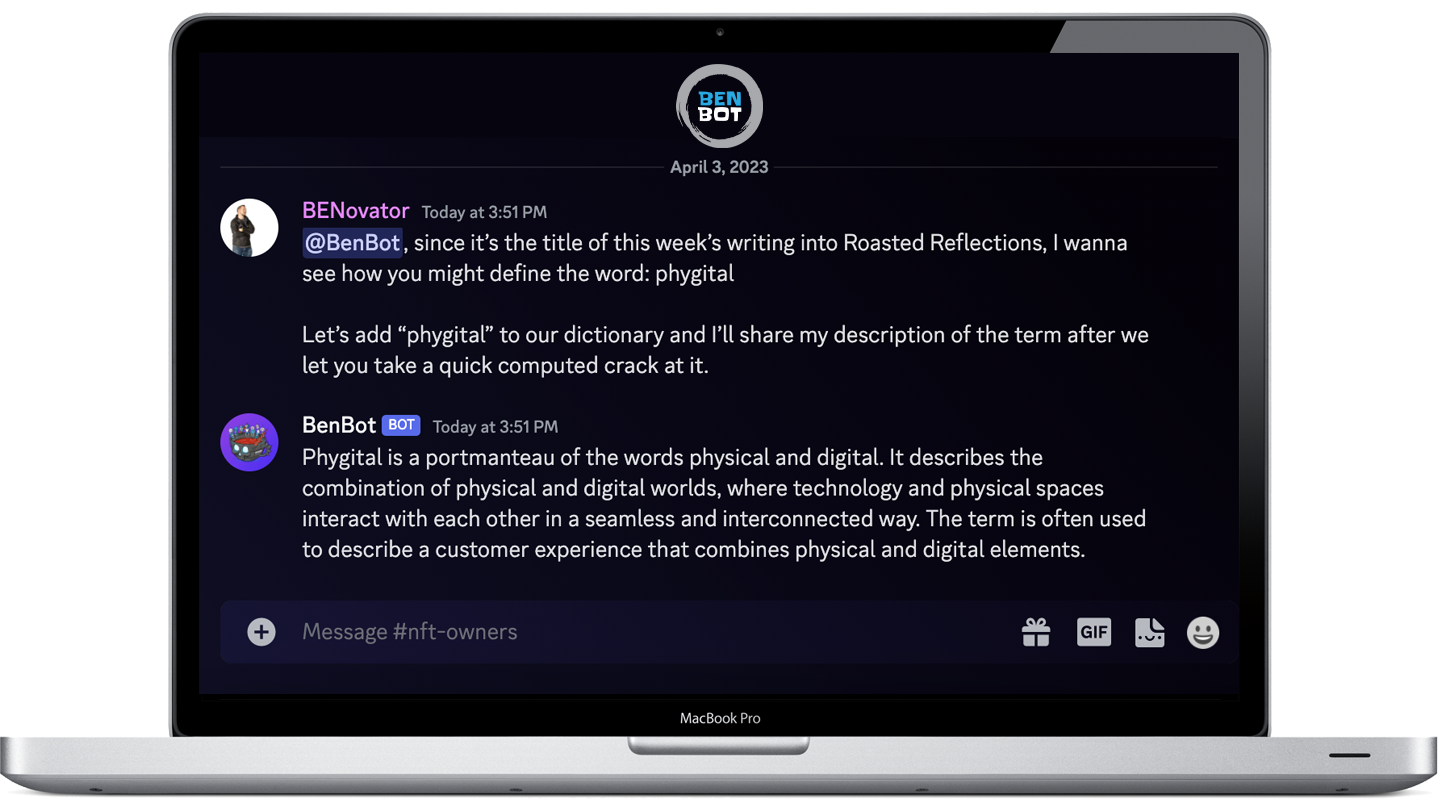 Perhaps this means I'm late to the party, but at web3dsm last week, I was introduced to this "phygital" word. As I've thought more about it, phygital feels like a term to help us think about the blends between physical and digital worlds. Phygital experiences have connectivity (or potential to do so) in almost everything man-made.
Phygital products exist in seemingly all industry sectors. Basically anything with electricity, and of course, technology products with electronic hardware and of course, all IoT products designed to be smart. These days, everything has an app option, eh. As I roasted on this writing, the computer and smartphone kept earning my mental vote for the most personified examples of a physical device that layers the entire user experience ("UX") into a digital counterpart. Radio and TV can earn runner-up recognition if they don't want left out, haha!
So, how did a recent web3 conversation lead to this new word? When more wayfinders start sharing ideas, the expansion of one's thoughts can be dilated and intensified. After Josh Larson helped us paint a conversation with generative AI, prompt engineering, and liberating bias systems in digital art, the articulated use of phygital and a compelling use case stuck with me.
Extra Shot

I've enjoyed building web3dsm with a decentralized team of volunteers. Along with being another energizing community building exercise, the compelling IRL conversations with fellow technologists has activated curiosity and thickened many people's understandings of different concepts within web3. Over the past 7 months, we've featured amazing web3 projects alongside cooperative education, complimented by deep thinking amongst a growing number of community leaders.
Alright… imagine a hoodie with a passive chip.
When scanned by a phone, the clothing activates a treasured digital experience. Think about it. Maybe you already have? Ta daa! Digital clothing.
You'd need a strong tech team and some luck in loud markets, but the idea of chip-enabled clothing feels like pure wonder, but also possible with an inquisitive team, expanding access to required components, attention from the right audience, and the right community-driven initiative. Hmm…
Phygital clothing is extra crazy too, because it's been such a traditional example of a physical product. Clothing is also designed to be a very personal choice. As clothing continues to be initialized by electronics, the digital companion will introduce almost endless depth. Embedding fresh remarkability, accessibility, different states to unlock, real-time incentives, network effects, and transcendent brand loyalty. Wow.
Whether you get electronic clothing from me or not, I predict more clothing will soon have the option to connect, even offering digital options to pair with what you wear. Alright, it's been fun to reflect on the future of fashion, but this idea machine is scheduled for a pit stop. As always, reply to connect and I'll look forward to bonus interactions.
Extra Shot

Another spellbinding term is #ChatUX. This may be our theme for next week, so if a friend shared this with you, confirm your free Roasted Reflections subscription. If you've enjoyed my weekly writing for years, thanks again and keep building my friend.