You Don't Need This Book: Entrepreneurship in the Connected Era is now available!
This synthesized narrative is brewed as innovative energy to help students, first-time founders, experienced entrepreneurs, intrapreneurs, and community builders start that new business, improve an existing company, or evolve an entrepreneurial ecosystem.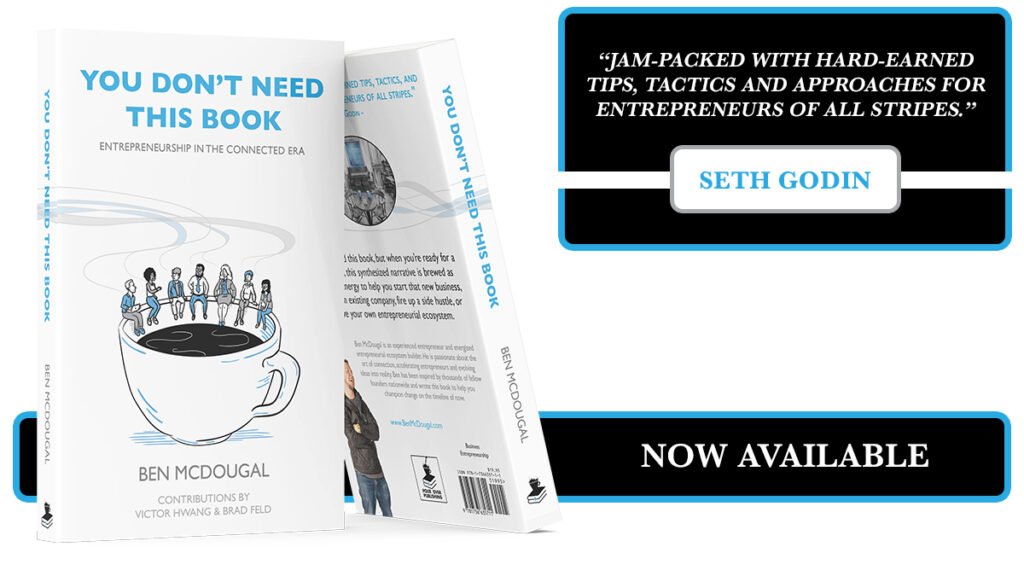 MOST POPULAR

Signed Softcover
$19.95
NARRATED BY THE AUTHOR

Audiobook
$14.95
DIGITAL DOWNLOAD

eBook
$9.95
COLLECTABLE NFT INCLUDED
NFT Bundle
$50

READER REVIEWS
"A must-have handbook for first-time founders." –Saba

"Easy to digest and apply." -Aaron

"Full of practical ideas on how to think like an entrepreneur." -Jeanne

"You'll want this in your classroom." -Nancy

"Don't listen to the title, you do need this book." -Jason

"One of the best books I've read in quite a long time." –Elizabeth

"This was just the energy I needed!" -Mark

"I'm super impressed." -Sinclair

"I buy this remarkable book for all my friends." -Julie

"The audiobook is so much fun to listen to!" -Brandon

"An inspiring read." -Meghan

"Love this book!" -Zeb

"10/10" –Jay
MEET THE AUTHOR
Ben McDougal is a tech founder and entrepreneurial ecosystem builder. He is passionate about the art of connection, accelerating entrepreneurs, and evolving ideas into reality. Ben has been inspired by thousands of fellow founders nationwide and wrote this book to help you champion change on the timeline of now.