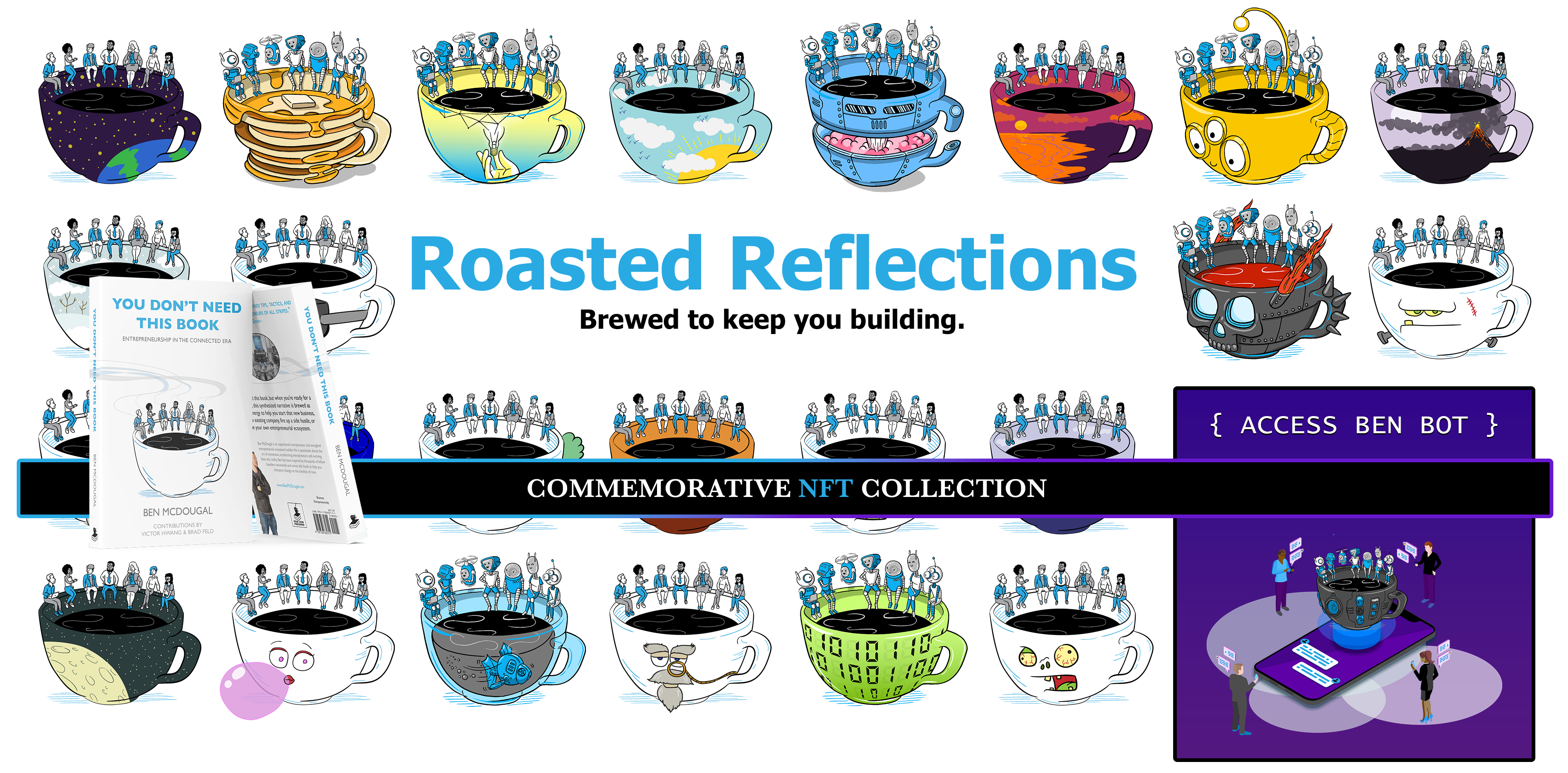 Welcome to my NFT collection! This caffeinated collaboration commemorates YDNTB and is dedicated to connecting entrepreneurs, intrapreneurs, and community builders.
Ownership in this NFT collection unlocks our Discord community, a YDNTB audiobook download, compelling utilities, and access to BEN BOT! As you can see below, there are three categories of collectable NFTs and additional tokens to airdrop into the YDNTB NFT Bundle.



Frequently Asked Questions
What's an NFT?
NFTs ("non-fungible tokens") are digital assets supported by smart contracts that connect to a blockchain. Each NFT is unique, which allows code to autonomously apply, track, and transfer digital signatures and verifiable ownership. <click here to learn more>
How many NFTs are in this collection?
There are 69 tokens up for grabs.
How many NFTs have been sold?
22 with a total volume of 0.6 ETH
What's the floor price?
Each token is purposefully affordable, starting at only .02 ETH or ~$30.
How can I snag a free NFT?
Click here to purchase the NFT bundle which includes two copies of YDNTB and one free NFT. With purchase, you'll receive instructions on how to claim your NFT airdrop. A digital wallet is required to receive NFTs, but we'll help you get setup if you'd like friendly assistance.
How do I purchase a NFT?
There are two key steps. First, use $USD to purchase ETH from a cryptocurrency exchange such as Coinbase. Then transfer ETH into a digital wallet such as a Coinbase Wallet. This digital wallet allows you to then receive, buy, and sell NFTs on marketplaces like OpenSea or Coinbase NFT.
What's special about this NFT collection?
Each unique NFT has a specific theme and uses smart contracts to verify ownership on the Ethereum blockchain. Along with being a fun collectible, each token unlocks a variety of compelling utilities, meaningful conversations, and exclusive access to a growing community of fellow NFT owners. Ben has been building community for over 20 years and this NFT collection fuels more interesting collisions. In short, each token supports my work and welcomes you into my world.
What's the release schedule?
The first two categories of tokens were released alongside the Roasted Reflections newsletter every Wednesday from April to December 2022. In 2023, a new category of tokens were added to allow NFT owners to access BEN BOT.

Can I connect with fellow NFT owners?
Absolutely! There is a private channel on our new Discord server (click here to claim your free invite), which is a safe space for more of us to continue building together.
What is Discord?
Think Slack + Zoom. It's one of the best ways to connect/collaborate online and remarkable people are already enjoying this fresh sandbox. Click here to join us!
Can I resell my NFT?
Yes. All tokens can be resold on OpenSea. If a Roasted Reflection token is resold there will be a 10% royalty fee applied.
What is OpenSea?
There are many NFT marketplaces, such as Coinbase NFT, Thirdweb, Crossmint, and Manifold, but OpenSea remains the world's largest marketplace to buy and sell digital assets. The OpenSea Resource Library is also a solid guide for anyone interested in minting new NFT collections.
How does the intellectual property work?
All copyright and intellectual property is owned by Pour Over Publishing. Token owners may not collect royalties and cannot sell or distribute the characters or designs.
What blockchain are these minted on?
This collection is minted on OpenSea, which uses ERC-721 compliant smart contracts deployed to the Ethereum blockchain.
Need more answers? No problem!
Let's connect and have some fun.