BEN BOT is a friendly AI built with influence layers that pull all my Roasted Reflections, social media activity, YDNTB, and other strategic embeddings into an interactive experience that will nourish your innovative lifestyle in a whole new way.
To activate this innovation, click below to purchase an NFT in the Roasted Reflection Collection. NFT ownership unlocks our Discord community, a YDNTB audiobook download, other compelling utilities, and exclusive access to BEN BOT!
Frequently Asked Questions
When does BEN BOT go online?
April 1st, 2023
What can I ask BEN BOT?
Anything, but when talking entrepreneurship, intrapreneurship, and community building, you'll feel BENergy pour into the conversation.
Why was BEN BOT created?
As a technologist, the author of YDNTB, and a community builder with mountains of valuable content online, BEN BOT represents an experiment built to accelerate others in an innovative way. The insight you'll learn from BEN BOT will astonish you and the accessibility is unmatched.
What's the story of your NFT collection?
Explore the Roasted Reflections Collection.
Why Discord?
Discord is like a combination of Slack and Zoom. It's where NFT owners interact with BEN BOT, as well as, 150+ active community members who enjoy this collaborative space.
Can you help me build a chat bot?
Maybe! We are now exploring opportunities to commercialize this wicked smart project.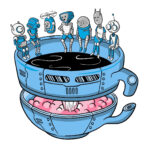 Wanna learn more? Nice!
Let's connect and get nerdy.