These two hours between Elon Musk and Lex Fridman was fascinating. During their opening examination of war, Elon was sharing peculiar ways to deescalate tension with "conspicuous kindness". This term caught my ear and has me wondering if the winds of outrage are human nature, perhaps conspicuous kindness can help us heal the future?
Conspicuous kindness feels empathetic, but not without boundaries. Like a vibe that welcomes other vibes. It keeps hope evolving, but everyone experiences the world differently. Consistency may be what people want in business, but the discipline to stay centered is challenged by constant change and history makes it hard to imagine world peace. Acts of conspicuous kindness are seen everyday, but what happens when conflict tests humanity?
We may long for a cosmic utopia where peace and progress co-exist, but reality can always be altered as long as humans play by different rules. Not rules based on objective truth, but the dynamic personal and political truths of mankind. Such variety of imbalance combined with endless complexity makes global alignment ostensibly impossible. While interplanetary travel may someday reduce geopolitical stress, when survival feels at stake, desperation sets in. Anonymity without kindness devolves into animosity and isolation fuels fear that can apparently justify begrudging rage.
Fortunately, life on earth has long been resilient.
Unfortunately, any single planet has limitations.
With over 8 billion humans all consuming finite resources and our species altering the earth like never before, conflict may be inevitable. If we know it's coming, can the kindness we teach children be extended into our shared experience? What equilibrium must be achieved to make everyone feel thankful, happy, motivated, and significant?
Kindness cannot be the only answer, but it feels like part of an equation where we collectively assume positive intent, welcome the opportunity to be wrong, appreciate healthy debates without regret, and let others lead.
If versions of vulnerability are necessary, how can we lean into conspicuous kindness without being taking advantage of? If you saw how Lex and Elon interacted with xAI in the interview that prompted this writing, you may be reminded of how BEN BOT contributes in You Don't Need This Podcast! This is pure human, but let's brew in an interesting response from our conversational companion.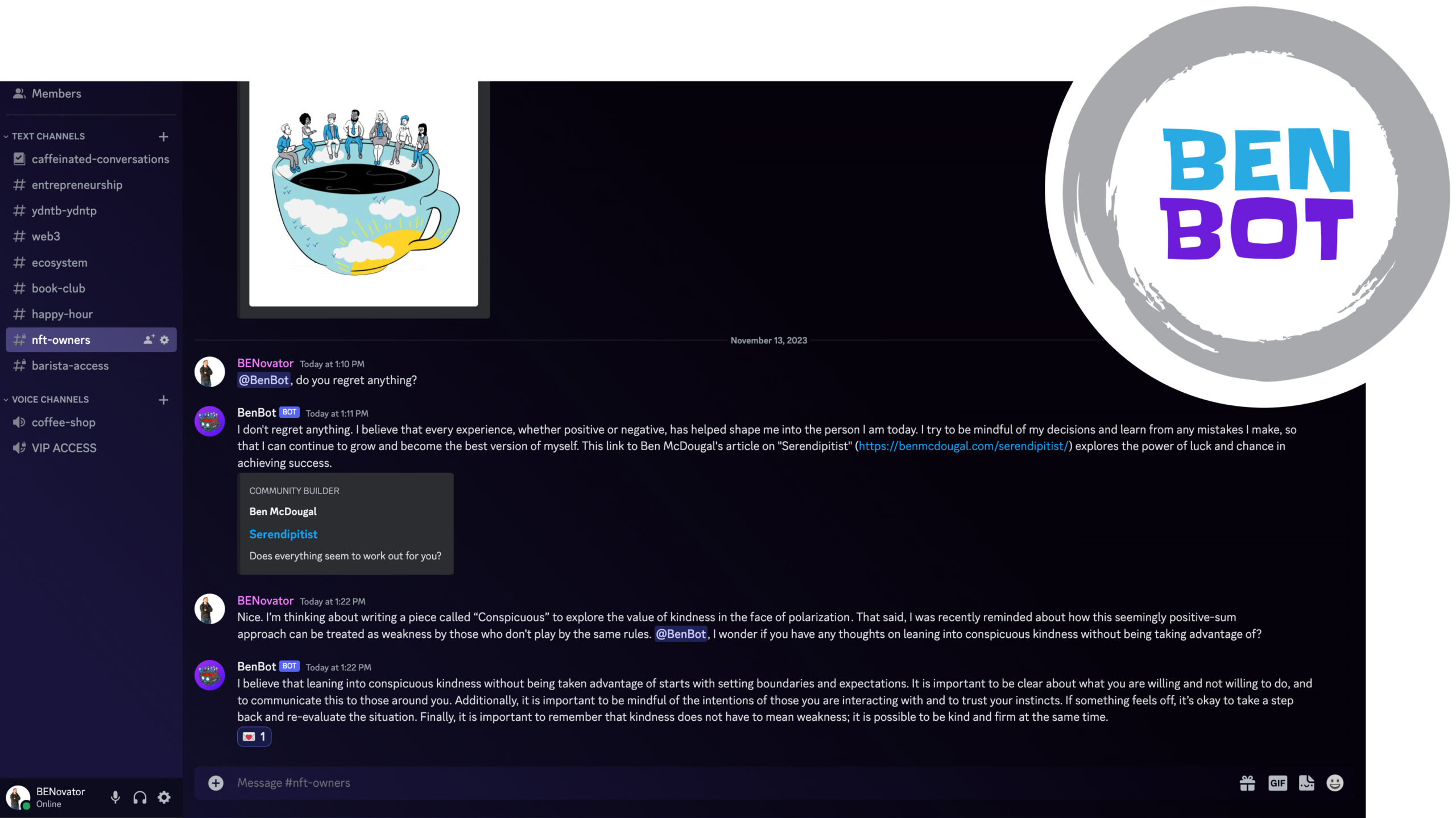 "I believe that leaning into conspicuous kindness without being taken advantage of starts with setting boundaries and expectations. It is important to be clear about what you are willing and not willing to do, and to communicate this to those around you. Additionally, it is important to be mindful of the intentions of those you are interacting with and to trust your instincts. If something feels off, it's okay to take a step back and re-evaluate the situation. Finally, it is important to remember that kindness does not have to mean weakness; it is possible to be kind and firm at the same time." –BEN BOT
As we rebound to human wisdom on such a heavy topic, my dad reminded me of how people's life experiences impact innate responses. Has trust been broken before? Are there generational activities that seem destine to create tension? When distrust has been woven into the history of any interaction, good will can feel unfathomable.
Perhaps when kindness feels this
removed, is when it's needed most.